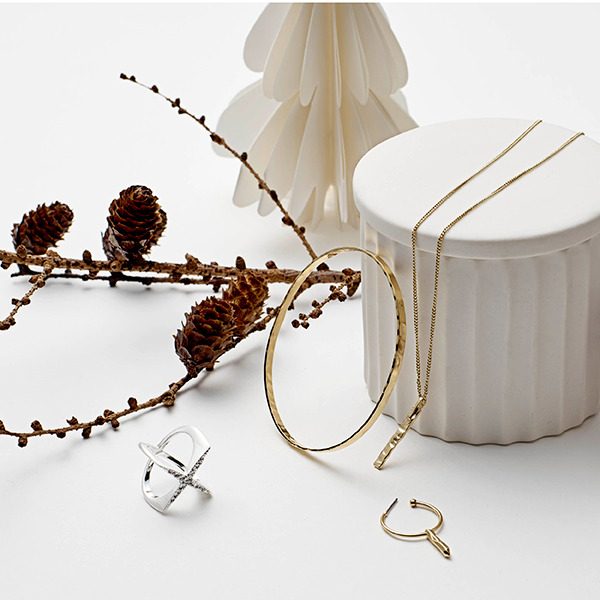 A Magical Christmas x Pilgrim
December is upon us and it's time to get into the Christmas spirit. Christmas is the feast of gifts, and we decided to act as Santa's little helper and guide you through the jungle of December shopping.
Look forward to:
♡ Guides for all the gifts of Christmas
♡ Trends which complete your December look
♡ Inspirational Christmas items
Stay tuned
We will reveal the inspiring guides one by one, so you should definitely stay tuned if you are looking for Christmas inspiration. You can also sign up to our weekly newsletter, where we promise to keep you updated on all you need to know about Christmas gifts, fashion jewellery and watches, special offers and inspiration guides.
Guides and inspiration for a beautiful Christmas
With guides and inspiration for our amazing universe of fashion, jewellery and watches, help is at hand whether for gifts for those you love or the perfect finishing touch for your own December look.
Gifts and looks for every budget
Each guide is adapted to different price points, ensuring that there is something for everyone and for every budget. Unsure of what to give your friend, girlfriend, sister or mother for Christmas - or what jewellery you should wish for, or wear, at Christmas' many parties?
No need to Christmas stress. Just put your feet up and begin to explore our Christmas universe. We help you with all the inspiration you need.
Christmas inspiration for all
In other words: This universe is full of inspiration for what to wish for, what you might give your loved ones as presents, and our takes on the best party jewellery. So, whether you prefer to get all of your Christmas shopping done in good time, or wait until the last minute, we promise that you will find everything you need for a magical and unforgettable Christmas.
♡ Happy shopping and have a beautiful Christmas ♡
There is no need to worry when you order your Christmas gifts at Pilgrim
During the Christmas season, we pay special attention to ensuring that your goods are delivered quickly.
The deadlines for orders to be delivered before 24 December are as follows:
19 Dec. – shipments to Denmark
14 Dec. – shipments to Norway
17 Dec. – other countries
Please note that your order must be received no later than 13:00 on the dates listed above.
Orders will be shipped from our warehouse up to and including 21 December at 13:00.
*All jewellery can be refunded or exchanged until January 14 in accordance with our return policy
Bid Christmas welcome with Pilgrim jewellery
When the leaves begin to fall from the trees, the days get darker and colder, and we start lighting candles indoors, we can all feel Christmas slowly approaching. And although many prefer the summer months, there really is something rather charming about autumn and winter. This is where we cosy up indoors with blankets and films, enjoying ourselves with those we love the most. Christmas is the sweetest time of year, and it is also an occasion to treat your nearest and dearest with fine gifts.
Spread the Christmas cheer with beautiful jewellery
If you are looking for a personal gift for your girlfriend, sister or mother, it is hard to go wrong with Pilgrim jewellery. Here, you can find a piece of jewellery that suits the exact style you know the recipient likes. We have necklaces, earrings and bracelets in many different designs and styles, so there is something for everyone. Our jewellery comes both with and without beads, different types of stones, and both very feminine pieces and some with a little more edge. Whatever jewellery you think is right for a Christmas gift, you are guaranteed top quality Danish design. All our jewellery is handmade and nickel-free, and this in particular is your guarantee of a unique piece of jewellery made with an eye for detail.
Most women love jewellery in virtually all designs. A beautiful ring or a new watch is always a hit, and with Pilgrim jewellery any woman can be dressed for both everyday and special occasions. For everyday use, most people probably prefer classic and subtle jewellery, whereas for a night out with the girls, the accessories are allowed to draw a little more attention, creating the perfect opportunity to go all in on the amount of pieces and the type of jewellery. Whether you are looking for a jewellery gift for one purpose or another, you can be sure to find it here. If you also need to get yourself ready for Christmas' many parties, you just might stumble upon a beautiful piece for yourself on the website as well. Maybe you have already bought a new dress for the company Christmas party, and you just need a little something to complete the look. With a Pilgrim necklace around your neck, you can add the finishing touch to your outfit.
Buy at Pilgrim
When Christmas is upon us, and many spend the month of December stressed out in an attempt to get all the many practical things done in time, it is important to remember to spend the time to find just the right gifts for the people we love. If you get organised in time, there is also a greater chance of getting just the things you had your eye on. The same applies if you thought of a beautiful piece of Pilgrim jewellery for a special person. Buy online from the website or drop by one of our physical shops. Pilgrim wishes all our customers a Merry Christmas!